Many observers of Lincoln during the municipal reign of Mayor Leirion Gaylord Baird have noted an increasing deterioration in the city's quality of life.  Its symbolic nadir was perhaps the Mayor's outrageous march in sympathy with protesters following the widespread destruction of private property in the city center riot after the tragic death of George Floyd in Minnesota.

Pockets of homeless persons now roam downtown with impunity and have even had an encampment in southwest Lincoln.  Downtown businesses have suffered from apparently homeless persons blocking entry, aggressively panhandling, or behaving near the doors in menacing ways.  One very good downtown restaurant, which was afflicted in this way, actually closed recently.  Its location in Lincoln's deteriorating downtown was an obvious factor in the closure. 

The latest manifestation of Mayor Gaylord Baird's poor leadership was reported in today's Lincoln Journal Star.  As readers will note below, homeless people set a fire that damaged a bridge in Lincoln.  The damage has caused lane closures on Antelope Valley Parkway, which will negatively impact access to this week's Husker football game.

For Lincoln residents dismayed by Leirion Gaylord Baird's incompetent municipal governance, the election of Sen. Suzanne Geist as Lincoln's next Mayor cannot come soon enough.
---
Partial closure of Antelope Valley Parkway will affect Saturday Husker traffic
Andrew Wegley – October 28, 2022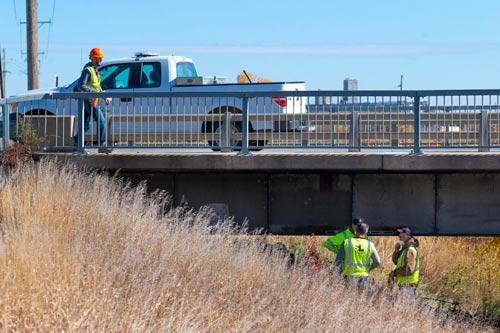 Husker fans traveling in north Lincoln on Saturday should expect delays after a kindling fire started by a group of homeless people late Thursday night damaged a bridge overhead, forcing lanes of Antelope Valley Parkway to be closed, according to officials.
The corridor has been reduced to two lanes between Saunders Avenue and Virginia Street — blocks north of the Devaney Sports Center, where the Husker volleyball team is set to square off Saturday night with Maryland after a football matchup between Nebraska and Illinois at Memorial Stadium.
Lincoln Fire and Rescue crews quickly extinguished the fire underneath the bridge after they were called to the scene at about 11:30 p.m. Thursday, Capt. Nancy Crist said. But the damage to the bridge's supports had been done. Read the rest of the story here
Feature Photo - Man in Green Jacket Lying on Floor by Mart Production • Lincoln city employees inspect damaged bridge, photo by Kenneth Ferriera, Journal Star