Citizens United, an organization dedicated to restoring our government to citizens' control, released last week its anticipated documentary, "Rigged: The Zuckerberg-Funded Plot to Defeat Donald Trump." This release followed the film's recent debut at the Mar-a-Lago Club in Palm Beach,Florida.  The 40-minute documentary was written and produced by Citizens United President and Chairman, David N. Bossie, who served as a Senior Advisor to the Trump/Pence 2020 campaign.  The film can be purchased for $4.95 at https://citizensunitedmovies.com/catalog.  
This documentary details how Mark Zuckerberg and his wife, Priscilla Chan, used a sophisticated strategic plan authored by long-time and well-known Democrat operatives to channel and invest a remarkable $419.5 million of their personal funds into government-run voter operations in order to create a dramatic spike in Democrat voter turnout during the November 3, 2020, election.
This spike in Democrat voter turnout was created by pouring money into Democrat voter strongholds throughout the United States, especially those within swing states such as Wisconsin, Arizona, Georgia, Pennsylvania, and Michigan. These unprecedented investments with respect to mail-in ballot and ballot drop box operations benefited from the "cover" of America's Covid-19 pandemic, and they also invited vote fraud.
As previously reported by The Cornhusker Guardian, Nebraska's Lancaster County Board of Commissioners accepted a $404,584.50 grant from the Zuckerbergs via the Center for Tech and Civic Life ("CTCL") in early autumn of 2020. No other Nebraska county accepted such a grant. Douglas and Sarpy counties reviewed possible grants, but declined them.
See more in the Citizens' United article below…
---
Posted by Citizens United
04/01/2022
Rigged: The Zuckerberg-Funded Plot to Defeat Donald Trump premieres April 5 at Mar-a-Lago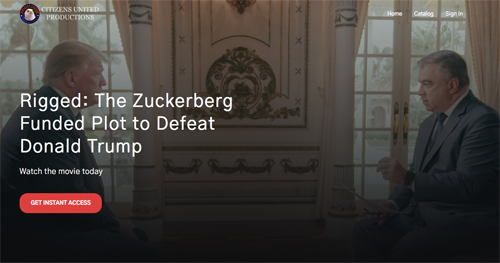 In 2020, almost $400 million of Facebook Chief Executive Officer Mark Zuckerberg's charitable contributions were spent – with most of the funds funneled to government elections offices in critically important jurisdictions for Joe Biden – to finance get-out-the-vote efforts aimed at defeating President Donald J. Trump. A new 40-minute documentary film from Citizens United Productions, titled Rigged: The Zuckerberg-Funded Plot to Defeat Donald Trump, goes into painstaking detail of the plot orchestrated by liberal operatives who used the COVID-19 pandemic as an excuse for the private funding of government elections offices with the intent to drive voter turnout for Democrat candidate Joe Biden.
The documentary will premiere at President Trump's historic Mar-a-Lago Club in Palm Beach, FL on April 5, 2022. The trailer is available for viewing now at www.Rigged2020.com, where the movie will be available for download on April 5.
Relying on the 990 forms non-profit groups must file with the Internal Revenue Service, Rigged traces the river of cash flowing from the Chan Zuckerberg Initiative to a pair of 501(c)(3) non-profit organizations, the Center for Tech and Civic Life (CTCL) and the Center for Election Innovation and Research (CEIR). CTCL received $328 million in "Zuck Bucks," while CEIR was given $69 million. read the rest here