Think San Francisco. Think Chicago. Think New York City. Think Philadelphia and St. Louis. Violent crime is running amok in those cities. And what have they had in common? "Woke" Democrat prosecutors like State Senator Adam Morfeld.
Of all the races across the State of Nebraska, the contest for Lancaster County Attorney is the easiest in which to make an endorsement during the current election cycle.
Pat Condon, a hard-nosed but compassionate and creative prosecutor with 34 years of prosecutorial experience, is the clear choice to continue in office as Lancaster County Attorney.
County Attorney Condon's Democrat opponent, Sen. Morfeld, has no prosecutorial experience whatsoever, but carries with him the "woke" Democrat attitude that has made Democrat-run cities across the nation dangerous places in which to live and to rear children.
It actually took an order of the Nebraska Supreme Court (which essentially gave Sen. Morfeld a "pass") even to have his name appear on the ballot because of a legal challenge alleging Sen. Morfeld's failure to meet the minimum County Attorney requirement of two years' active law practice. The term-limited Sen. Morfeld is simply a career politician who desperately wants to stay in an elective office of some sort.
Pat Condon, on the other hand, is a professional prosecutor with no plans to seek higher office. County Attorney Condon simply wants to continue using his deep experience and considerable prosecutorial skills to protect the people of Lincoln and of rural Lancaster County.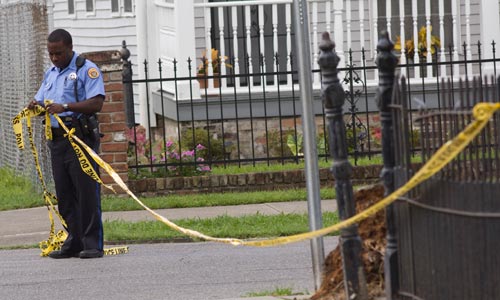 Do we really want to put at risk our public safety by placing such an important Lancaster County office in the hands of a man like Sen. Morfeld, whose poor judgment causes him to promote marijuana, a gateway drug that is responsible for much of the homelessness and the mental illness that produces violence in cities where Democrats control the levers of criminal prosecution?
Do we really want to entrust our families' safety to Sen. Morfeld, who supports the "bail reform" that has produced record levels of violent crime in cities where "woke" Democrats like Adam Morfeld control the prosecutor's office?
Sen. Morfeld's "anti-values" are among the things that have been destroying the social fabric of American society for quite some time, and they will surely continue to guide his decision-making were he to become Lancaster County Attorney.
The sources of money in Sen. Morfeld's huge fundraising machine are equally alarming. They do not reflect authentic Nebraska values. The opposite, however, is true of County Attorney Condon, who (for example) enjoys the strong support of the Peed Family and its Sandhills Global publishing operation.
To the extent that Sen. Morfeld has any truly good ideas, he can share them with incumbent Lancaster County Attorney Pat Condon, who will undoubtedly evaluate and implement them in a sensible manner.
For the reasons set forth above, The Cornhusker Guardian enthusiastically and strongly endorses incumbent Pat Condon for re-election as Lancaster County Attorney. Our families' safety depends upon it.
Because of the large number of general election races and the size of its editorial staff, The Cornhusker Guardian is limiting its general election endorsements to the two ballot questions and to races that are both contested and within the geographical areas where it has editorial staff to cover them.  It will not endorse in races that are uncontested.

By "uncontested," The Cornhusker Guardian means a candidate being unopposed, or being opposed by a marginal candidate, such as one listed on a "marijuana" party ballot line.