By The Cornhusker Guardian's Editorial Board
Lancaster County Commissioner Deb Schorr, who currently seeks her sixth term in that office, claims in a recent mailer to Republican voters that she is the pro-life and conservative choice in the race.  
In fact, her record in office is part of the reason that many GOP voters believe Deb Schorr should not win renomination to the post on May 10th (notwithstanding her endorsements by officeholders from the Republican Establishment of which she is part).
Commissioner Schorr, for example, has admitted on a local radio show that she voted in favor of Planned Parenthood during an earlier period of her long tenure on the Lancaster County Commission.
Minutes from a 2004 meeting of the Lancaster County Commission in fact confirm Commissioner Schorr's support for allocating $3,000 in Keno money to Planned Parenthood. According to the Commission minutes:
Commissioner "Schorr stated she is a member of the Keno Advisory Board and that the allocation for Planned Parenthood generated a lot of discussion among committee members. She stated the committee felt very strongly about their [i.e., Planned Parenthood's] work, specifically training Latino advocates, and it was felt the benefits of the program outweighed any negative perception."
This is astonishing. Planned Parenthood is in the business of killing babies. It derives significant revenue from abortions. And here we have a long-serving Lancaster County Commissioner, who now claims to be pro-life, wanting to give thousands of dollars for the training of "advocates" who can promote the killing of babies within the largely Catholic Hispanic community.
And unlike her truly conservative counterparts in other Nebraska counties, Commissioner Schorr also voted during the last election cycle to accept private grant money (commonly known as "Zuckerbucks") from a not-for-profit associated with uber-liberal Facebook founder Mark Zuckerberg and his wife, Priscilla Chan, to fund ballot-related activities that should be (and historically have been) the exclusive province of government election offices.
More specifically, and as previously reported by The Cornhusker Guardian, Nebraska's Lancaster County Board of Commissioners, under Deb Schorr's governance, accepted a $404,584.50 grant from the Zuckerbergs via the Center for Tech and Civic Life in early autumn of 2020. No other Nebraska county accepted such a grant. Douglas and Sarpy counties reviewed possible grants, but declined them.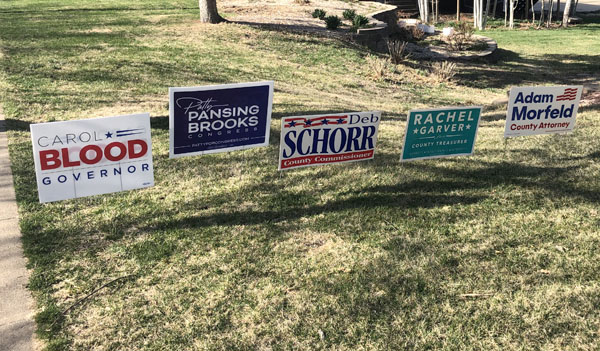 If anyone doubts that Commissioner Schorr is closer to a Democrat than a Republican, the picture of political yard signs recently observed at a home in Lincoln's Country Club district should dispel that notion: "Republican" Deb Schorr's sign is in the middle. Immediately to the left are signs for Carol Blood (Democrat for Governor) and Patty Pansing Brooks (Democrat for U.S. Congress). To the immediate right are signs for Rachel Garver (Democrat for Lancaster County Treasurer) and Adam Morfeld (Democrat for Lancaster County Attorney). The conclusion of some: "Birds of a feather flock together."
The consistent conservative and pro-life Republican who appears to have the best chance of defeating Deb Schorr is Matt Schulte.
Featured photo Donkey in a field by Leon Woods (Pexels.com)