Defense Secretary Lloyd Austin told Governor Pete Ricketts in a letter sent late last week that, regardless of any state level objections, Nebraska Air and Army National Guard members must be vaccinated against COVID-19.  Failure to do so, he said, will lead to prohibiting members from participating in drills, and it will also jeopardize their status.
Governor Ricketts, as well as fellow Republican governors Mark Gordon of Wyoming, Tate Reeves of Mississippi, Kim Reynolds of Iowa, Brad Little of Idaho, and Mike Dunleavy of Alaska, signed a letter to Austin in mid-December asking the Defense Secretary to drop the vaccine requirement, arguing that he had no power to implement such a mandate on Guard members, who are under state authority.
Two federal laws are at issue that outline control of the National Guard:
Under Title 32 of the U.S. Code, governors control the Guard unless they are mobilized for federal duty.
Under Title 10 of the U.S. Code, the President can mobilize the Guard, placing it under federal authority.
All six governors, as well as Texas Republican Governor Greg Abbott, received last week's letter of response from the Defense Secretary. Each governor's letter was nearly identical.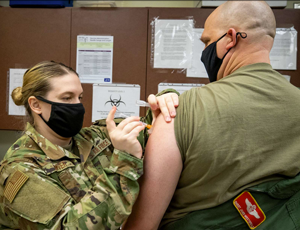 "The Biden administration needs to consider the real-world impacts vaccine mandates have," Governor Pete Ricketts said today. "I don't think they've weighed the actual benefits with the costs they're imparting. And Nebraskans are going to suffer as a result. Nearly 20 percent of our National Guardsmen remain unvaccinated. That's well over a thousand men and women whom we may lose from Nebraska's defense because of this mandate."
Secretary Austin mandated vaccinations for the military in August of 2021 but left it up to each service to implement its own deadlines. Air National Guard members had until December 2nd to be inoculated, while Army National Guard members must comply by June 30, 2022.
Photo credits: Secretary of Defense Austin; Governor Pete Ricketts with the Nebraska National Guard on the 100th Anniversary of the Warrant Officer Cohort, July 9, 2018; and Airman First Class Katlin Lawver, Aerospace Medical Technician, 155th Medical Group, administers a COVID-19 vaccine dose to Senior Master Sgt. James Westerdale. Photos courtesy of The U.S. National Archives and Defense Visual Information Distribution Service.